June 8
Today is the last of the internship, and I have completed the website on time.  Yesterday was the day for uploading the photos, but the internet was slow again.   Fortunately, I uploaded the photos and completed the website. After double checking, I published the website by the end of the day.
The "Home Page:"
I changed the Notification bar from "Building the Website" to "Welcome to SSIS Chinese Website:"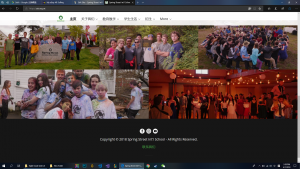 the "Dorm Page."
I didn't turn my computer off for 16 days!
Nathan Li